Our Rooms
Relax and unwind in your modern hotel room or one/two bedroom self-contained apartment – all with individually controlled air-conditioning as well as ceiling fans, complimentary Wi-Fi access with up to 1GB, cable TV and most with large balconies. To enhance our guests' experience, our superior rooms have recently been given a fresh new look including new pillow top beds and bedding, modern desks/work areas and new technologies such as iPod docking stations and high definition LCD TVs.
Standard Hotel Room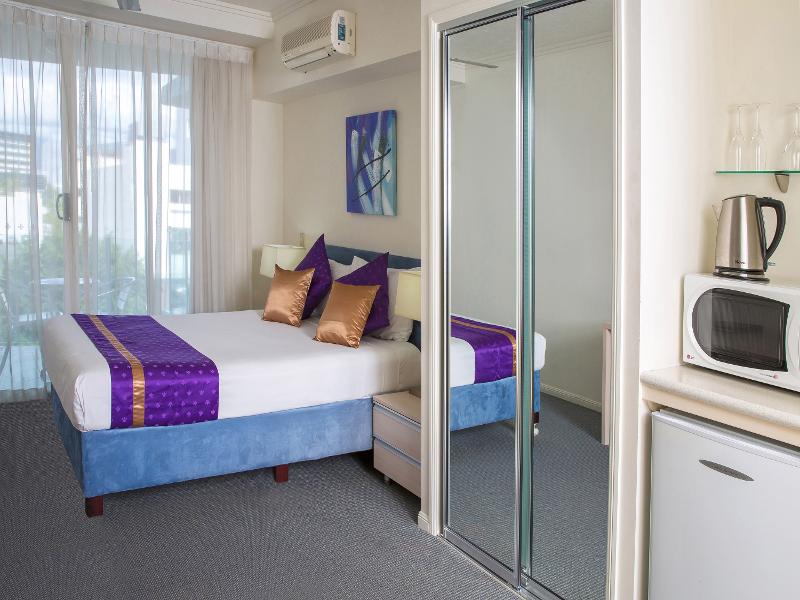 Our Standard hotel room accommodates 1-2 people and are configured with one queen bed. Rates are for 2 guests.
Executive Hotel Room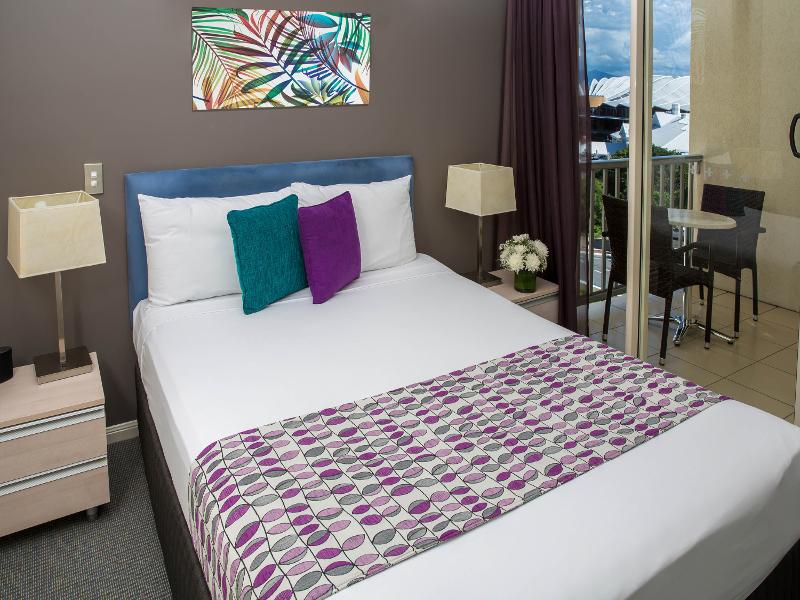 Stylish and modern Executive Hotel Room recently undergone a substantial refurbishment including freshly painted rooms, new block out and sheer curtains, along with new outdoor settings for your comfort. Finished with new tropical colour prints, cushions and bed throws. Bedding is 1 queen bed. Rates are for 2 guests. Maximum occupancy is 2 guests.
Standard One Bedroom Apartment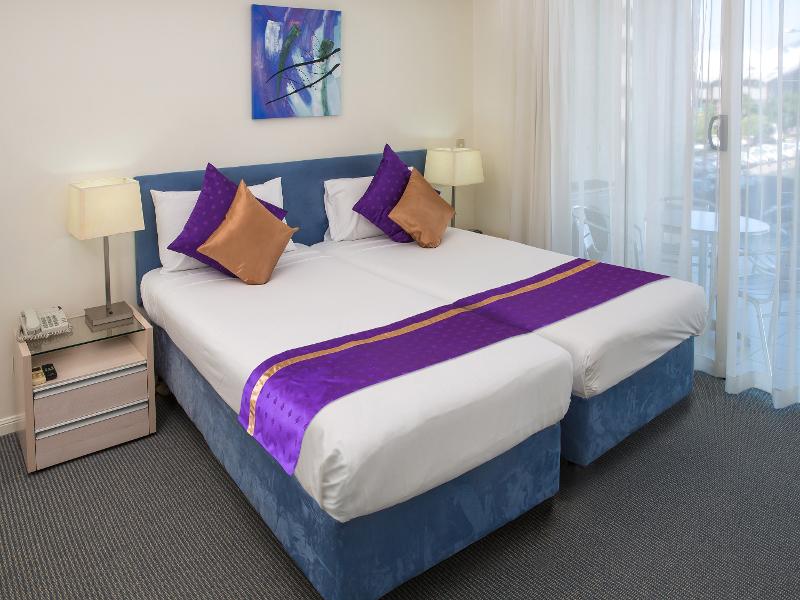 Our Standard One Bedroom Apartments comes with full kitchen and laundry facilities. Bedding is configured with 1 x king bed or 2 x singles. Rates are for 2 guests, Maximum occupancy is 3. Fee applies for the third guest
Executive One Bedroom Apartment
Stylish and modern Executive One Bedroom Apartment recently undergone a substantial refurbishment including freshly painted rooms, new block out and sheer curtains, along with new outdoor settings for your comfort. Finished with new tropical colour prints, cushions and bed throws. Our Executive One Bedroom Apartments comes with full kitchen and laundry facilities. Bedding is configured with 1 x king bed or 2 x singles. Rates are for 2 guests, Maximum occupancy is 3. Fee applies for the third guest
Executive Two Bedroom Dual Keyed Apartment
Stylish and modern Executive Two Bedroom Dual Keyed Apartment recently undergone a substantial refurbishment including freshly painted rooms, new block out and sheer curtains, along with new outdoor settings for your comfort. Finished with new tropical colour prints, cushions and bed throws. Our Executive Two Bedroom Dual Keyed Apartments comes with full kitchen and laundry facilities. Bedding is configured with 1 x king bed or 2 x singles & 1 x queen bed. Rates are for 4 guests, Maximum occupancy is 5. Fee applies for the fifth guest
Standard Two Bedroom Dual Keyed Apartment
Our Standard Two Bedroom Dual Keyed Apartment comes with full kitchen and laundry facilities. Bedding is configured with 1 x king bed or 2 x singles and 1 x queen bed. Rates are for 4 guests, Maximum occupancy is 5. Fee applies for the fifth guest